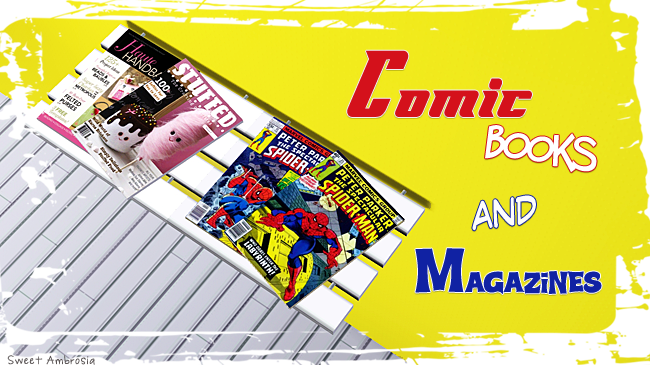 *** PLEASE RE-DOWNLOAD THE FILES - FILES SHOULD BE FIXED NOW ***


Double magazine stack featuring either 2 magazines or 2 "vintage" comic books. There are five magazines total and five comic books total. The magazines are separate from the comic books (they are not connected).


Vintage Comic books:
*
Peter Parker, The Spectacular Super-Man
* Green Lantern
* Archie's Girls: Betty and Veronica
* The Incredible Hulk
* The Flash
* Stuffed - The Crafting of Softies/Haute Handbags
* Art Journaling/Somerset Studio
* Haute Handbags/Stuffed
* Art Doll/Take Ten
* Somerset Workshop/Art Journaling

Price
: $5
Category
: Miscellaneous Decor
Credit
: Shelves by
Anoeska
*
Magazines and comic books can be placed on shelves, desks, tables, floors, etc....